Dental Veneers in Waterford, MI
Teeth that are badly stained, shaped, or crooked may be improved by veneers placed on the surface of the affected teeth.
What are dental Veneers?
Veneers are thin pieces of porcelain cemented over the front of your teeth to change their color or shape. Veneers are used on teeth with uneven surfaces that are chipped, discolored, oddly shaped, unevenly spaced, or crooked. Veneers have a longer life expectancy and color stability than bonding, and highly resist permanent staining from coffee, tea, or even cigarette smoking. A real benefit that creates value and longevity for you.
Typically, veneers entail at least three appointments: diagnosis, photos and treatment planning, design appointment, and final delivery. The design appointment is where we reshape and design your new smile. You leave with temporary veneers that will look wonderful until your actual porcelain veneers arrive from our expert lab. The lab we use is here in the United States, and we are experts at beautiful ceramic veneers. In the final delivery appointment, your temporary's are removed and your beautiful veneers are placed. You now have the look you've desired!
Versatility of Porcelain Veneers
Veneers can be used to improve any of the following characteristics of your teeth: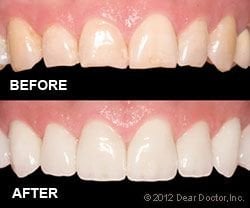 Color — Teeth can become stained by the foods and drinks we like, from smoking, and even normal aging. Veneers are available in numerous shades, from the most natural to the brightest Hollywood white.

Size & Shape — Teeth can become worn down from grinding habits, or may not have the shape or size you want to begin with. For example, some people consider rounder teeth more feminine and squarer teeth more masculine. Veneers can be shaped and sized in whichever way is most flattering to your face.

Alignment & Spacing — Veneers can be used to close small gaps between teeth or make slight corrections in alignment while improving tooth color and shape.
Do you need Dental Veneers or would like to learn more?
Call our Waterford office at (248) 681-3600 today
for more information or to book an appointment!